FAQs
Where are you located?
22 East Main Street in Brownsburg, Indiana
What kind of classes do you offer?
Preschool Playgroups (ages 2 - 6) Developing children are the best at play, exploring new things, and experimenting. Playgroups are a wonderful time to nurture those abilities and to make sweet memories together along the way.
Workshops (grades k-6) A dash of creativity during a one time drop off class.
Junior Art Club (ages 5-7) We'll make friends, messes, art, and a heap ton of memories. Each session is a 1-hour drop-off class perfect for preschoolers and early elementary students.
Art Club (ages 7-11) What is an art club at Brightly? Each week, we present a new theme and different hands-on ways to explore that theme. Artists will work together with one of our skilled instructors to create a variety of projects like printmaking, painting, sculpture, and mixed media. Materials and tools are age-appropriate and engage a range of young artists. We are flexible, relationship-focused, and intend on bringing joyful art-making to kids!
Art Lab (ages 10-15) Art labs at Brightly are an in-depth look at a specific medium for several weeks. During labs, artists experience classes that are packed with new art experiences. Our art labs are always a hit with our teen crowd. 
Summer + Extended Breaks Camps (grades K-5) Your kids WANT to spend part of their break creating! All instructors at Brightly are educators. We are good at what we do & are one million percent confident in our abilities to craft meaningful & irresistible projects that your child will love.
Family Events (perfect for the whole family) Brightly Art Studio provides the opportunity meaningful activities that create lasting memories for your entire family. Our family events are a sparkly slam dunk!
What is process art?
Process art is all about the experience children have while creating. It is less about the end product and more about the process of making art. Process art allows children to explore the world around them. It allows them to be themselves, make their own decisions, & just create! 
 What should my child wear?
Dress for mess!
Do I stay with my child?
Most of our classes are drop off. We find that students work best when they are drop off classes. Children have a chance to explore their own creativity and lead the experience.
There are several classes that do require adult participation such as preschool playgroup, make + takes, & family events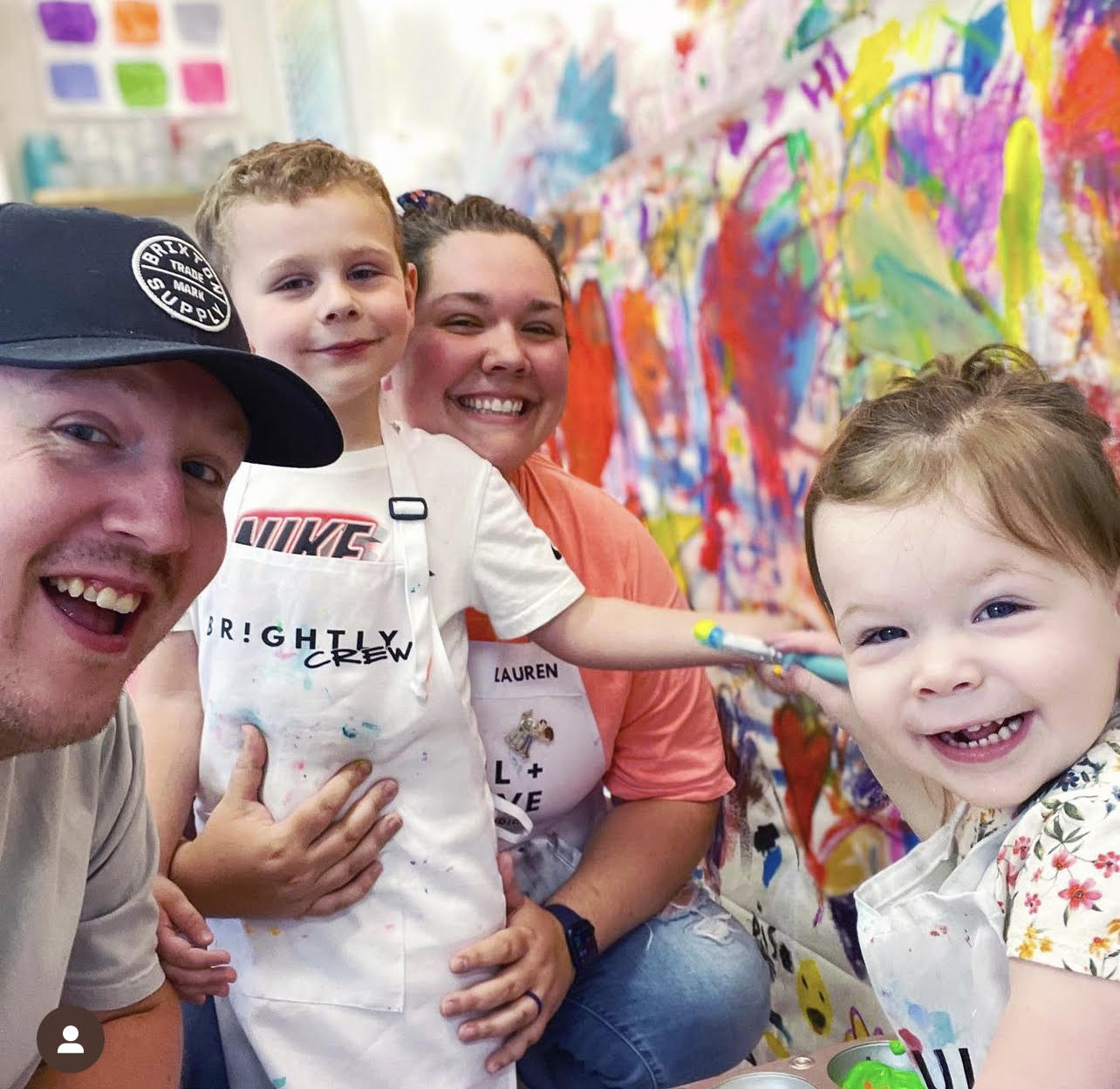 Insider Pricing
Family Membership - 19.99 monthly
2 adults & any children in household under 18
Membership Benefits
Annual Savings $430+
+ Save 10% when you register for ANY class, club, and camp we offer at our studio (value ~$150+ yearly)
+ Save 10% on our awesome celebration packages -birthday parties + private events (value ~$75 yearly)
+ Our welcome gift to you: a 24 oz. Joyful and Creative tumbler (value $25)
+6 individual Make + Take workshop spots per year for your family to enjoy! (value $130 yearly)
+ Exclusive members only sales on merchandise (value ~$50+ yearly)
+ Priority registration and early access to our high-demand camps. (value priceless peace of mind)
Become an Insider!
Memberships terms subject to change.